Last Updated on May 30, 2021
About a month ago, on the day before Mother's Day, I set off on the quest to find the perfect pen. At that point in time, I knew nothing about pens. To me, a pen was a pen and that was it. I didn't think I liked them. I thought I was a mechanical pencil kind of guy. Here we are around one month later, now on the day before Father's Day, and I have finally found a set of pens that I'm in love with.
I'm embarrassed to admit that I didn't know that a standard pen came in three main types: gel, rollerballs, and ballpoints. For the sake of this post, I'm going to narrow things down to just gel pens and ballpoint pens because I never liked rollerball pens. They smudge too easily for my liking. I thought a gel pen was any pen that produced a bold line of colored ink. I thought any other pen that had a metal tip was a ballpoint pen. WRONG. A metal tip pen can be found on BOTH and either one can have colored ink! The main difference between the two is actually in the type of ink they contain.
Gel ink is water-based and produces a darker, marker-like, solid line. It's very smooth and creates a fairly permanent line. Ballpoint pens are acrylic-based so they create a shinier line and can have a distinct smell to them. Water and certain chemicals can be used to remove the ink from a ballpoint pen so be mindful of them when taking notes or writing important documents. In addition to that, I've found that black gel pens create a true black line whereas black ballpoint pens tend to have a purple hue to them.
Pens even come in different line sizes. You can get a bold pen (1.0mm and up), a standard size (.7mm), a fine tip (.5mm), or my favorite, the ultra-fine tip (.38mm). I never knew pens came in more than one size…
Anyway, I'm going to talk about the pens that I have tried and what I thought of them.
NOTE: Only retractable pens were considered during judging because I hate pens with caps that come off. The pens considered had to be available in local stores like Walmart, Target, or Staples because I didn't want to shop online in case I felt like returning something.
MY FAVORITE PEN: For Writing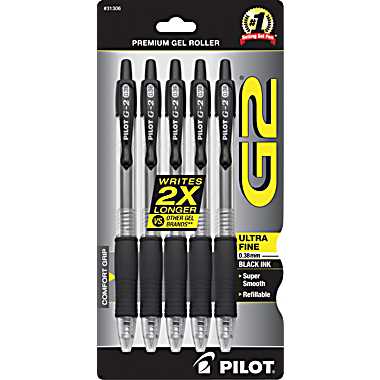 The Pilot G2 Ultra Fine .38mm
This is by far the best pen I have used. It's a gel pen and the .38 creates such a fine, crisp, smooth line that is great if you have small handwriting. I like it because the thin line compliments my handwriting and allows me to fit more words into less space. It's phenomenal. Plus, the pen barely smudges, rarely blobs, and is so comfortable to hold! I've been stocking up on these as they'll be my pen of choice in college.
MY FAVORITE PEN: For Business/Work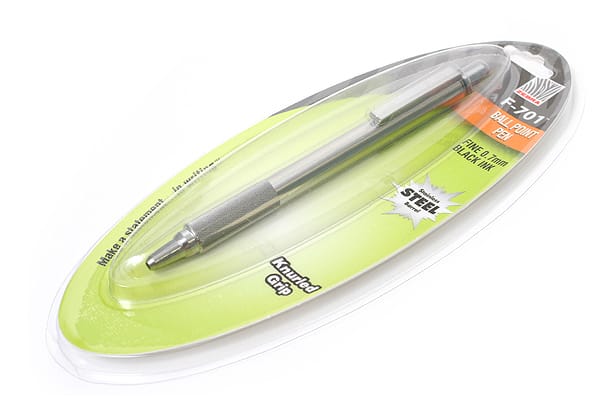 The Zebra F-701
The Zebra F-701 is my favorite ballpoint pen. I've owned it for five years now and it still writes flawlessly. It is cased in a metal barrel so it has a very classy and expensive look to it. It's smooth and super reliable. I will admit, it's a bit heavy and can become a little uncomfortable to write with for long periods of time, but it's still the best pen to carry around when you're trying to look professional.
*Side note- I asked my math teacher to sign my yearbook yesterday and she commented on what a nice pen it is!
**Another side note- I was at a Kiwanis dinner and I noticed a man had it in his shirt pocket. As I said, the pen is very classy!
MY FAVORITE PEN: For Security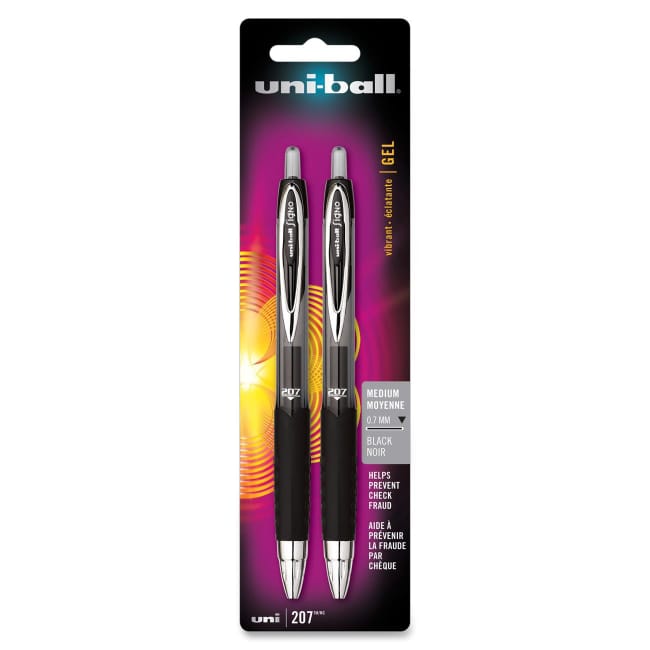 Uniball Signo 207
I have to say, this pen came very close to taking first place from Pilot's G2. The 207 is a phenomenal line of pens. The ink is of great quality! I wish it was easier to find them in a fine needle tip though. In addition to being a stylish pen, the 207 offers a great sense of writing security. You see, the ink in this pen has an infused pigment that embeds itself in the fibers of the paper you are writing on. It helps protect against check fraud because you can't wash the ink off once you have written on it. Great pen! I keep one in my pocket because you never know when you'll have to sign an important document!
MY FAVORITE GEL PENS: For Fun!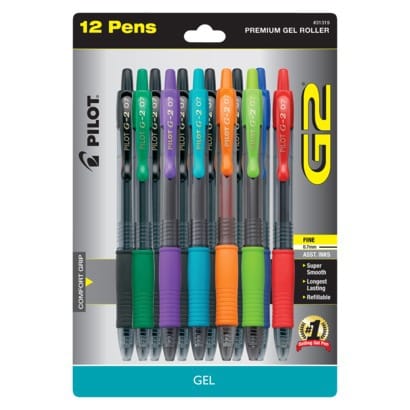 The Pilot G2 Fine .7mm
You already knew I loved the plain black Pilot G2 and guess what, I like their colored pens the best as well! These pens are flawless. Simply the best. I can't say enough good things about them.
MY FAVORITE BALLPOINT PENS: For Fun!
Zebra Z-Grip Flight
With my senior year coming to an end, people have been asking me to sign their yearbooks left and right and I've found that my gel pens just weren't cutting it. They smear much too easily. I knew it was time to invest in a few colored ballpoints so I ran to Walmart and picked these up. As you can tell from my pens listed above, my brand loyalty seems to sway between Pilot, Uniball, and Zebra- but the only ballpoint on the list is from Zebra. Well, my favorite set of colored ballpoint pens also comes from Zebra. The Z-Grip Flight pens are phenomenal and have allowed me to sign yearbooks in style! I love their look. My one friend commented on how nice the pen is as I was signing.
Pens I Did NOT Like:
Zebra Z-Mulsion Emulsion Ballpoint Pen
Uniball Jetstream