Last Updated on September 16, 2023
Upon leaving my school Friday afternoon, I was walking to my car when I saw this: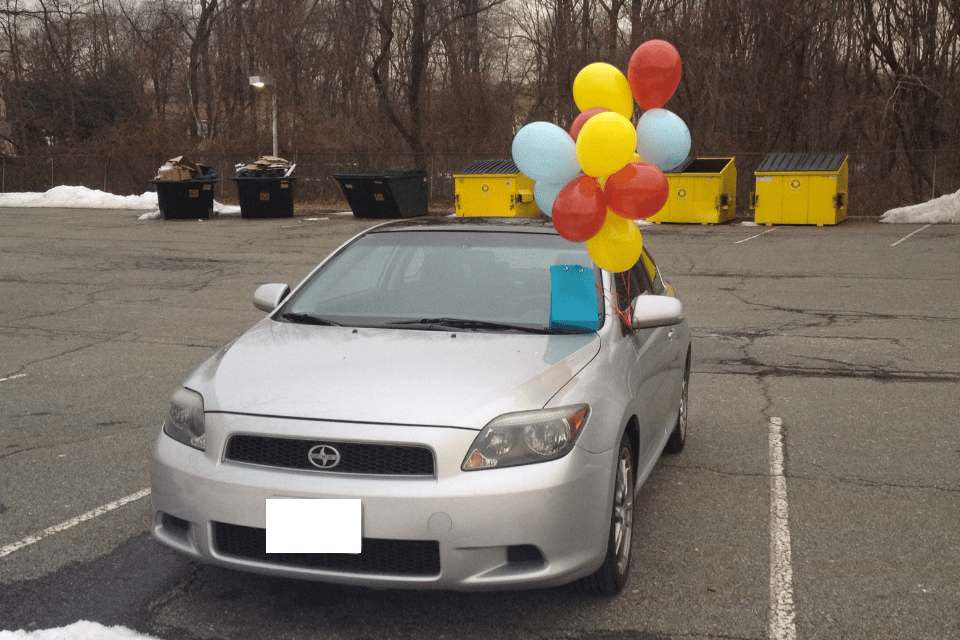 It was my car with a surprise: a little blue bag of candy and balloons tied to it.
I have to be honest, I became worried and even got a little upset at first. I immediately assumed someone was playing a prank on me and I was too stressed out to deal with it since I was already running late to a volleyball tournament.
When I looked inside the bag, I saw it was filled with literally EVERYTHING I LOVE:
-Pocky!!!
-Mounds Bars
-Jelly Beans
-Dark Chocolate
I looked at the balloons and some of them said, "Pop Me!"
So of course, I did!
Inside the balloons were small chocolates!
The bag itself said,
"To: Rocky
From: (The guy's name.)"
I put it into the trunk of my car and proceeded to head over to the tournament. Later that night when I had more time to myself, I checked it out again. I was confused about why my friend did all of this.
Was this a thank you for driving him to his house the other day?
Because he didn't have a ride?
Nope.
Inside one of the blue balloons was something in addition to the chocolate candies that I hadn't noticed the first time: there was a note.
I quickly popped the balloon and pulled out the note.
It was a little slip that read, "Will you go to prom with me?"
Oh my goodness! Wow! I couldn't believe it. Already!? Was I really just asked out to prom? By a guy!?
Now, here is the only thing. The sad part.
This whole setup was SO adorable but to be completely honest… I really don't see this guy as anything more than just a friend. We text pretty often and we are good friends, but that's just it, we are just friends. It was even a bit frustrating to be on the receiving end because this same guy has asked me out before in the past and I thought we established at that point that as flattering as it was, I wasn't really interested.
I was actually planning on asking a female friend of mine to go with me. My parents would probably freak if they found out I was going to prom with a guy… Although, that shouldn't stop me. But if I'm going to go with a guy and out myself to everyone, it has to be the right guy.
What do I do!?!? This is so confusing…