The New Jersey Lottery Festival of Ballooning is the largest summertime hot-air balloon festival in all of North America.
In 2023, the NJ hot air balloon festival welcomed over 155,000 visitors. I attended this festival in 2021 for the first time and managed to secure unplanned tickets for a flight on one of the hot air balloons!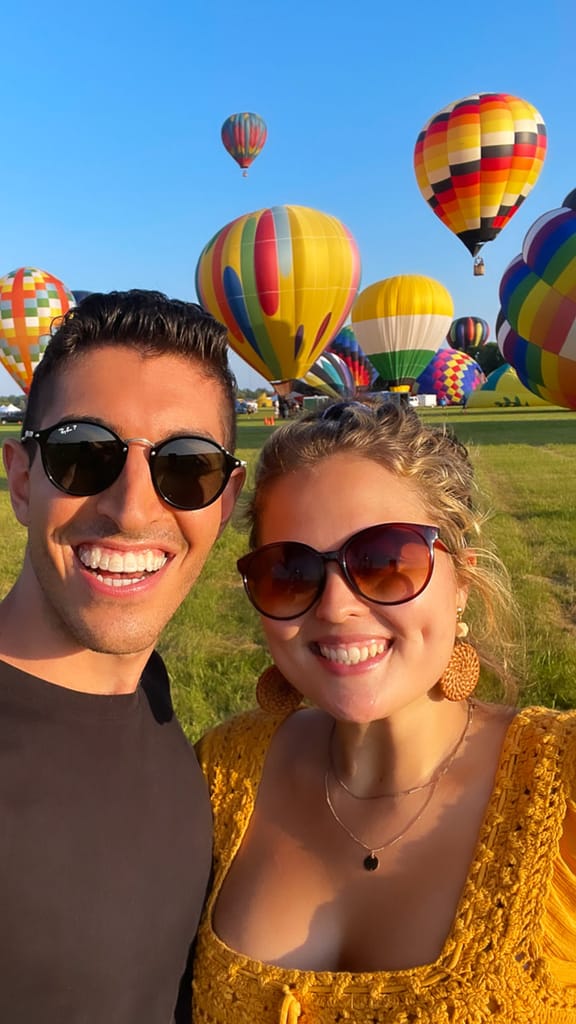 Best of all, I flew in a hot air balloon with one of my best friends, Chrissy!
A fellow traveler and expat, Chrissy lived in Thailand for several years teaching English to children attending school there. When she returned to the United States in 2021, we promptly made plans to meet up at the New Jersey Balloon Festival in Readington, NJ.
To give future potential hot-air balloon flyers and festival attendees a better idea of what to expect, I put together this Ultimate Guide sharing our first-hand experience with the balloon ride purchasing process, flight preparation, as well as what it was ultimately like flying in our first-ever hot-air balloon ride!
The Incredible History of the Balloon Festival NJ
The NJ Festival of Ballooning holds the dual distinction of being the recipient of the New Jersey Governor's Award for the Best Special Event as well as being rated by NJ Monthly as "The #1 Thing to Do in New Jersey!"
The balloon festival NJ began in 1983 when millionaire Malcolm Forbes, newspaper publisher Tom Curley, and some of their friends brought 10 hot-air balloons to the Union 76 Truck Stop on Route 78 in Bloomsbury.
This gathering of friends became a small festival. By 1985, the location moved to Solberg Airport where attendance gradually increased, attracting 40 balloons and 40,000 people over a 10-year period.
In 1993, sports promoter Howard Freeman and John Korff took over the event.
Once you have tasted flight, you will forever walk the earth with your eyes turned skyward, for there you have been, and there you will always long to return.

Leonardo da Vinci
Our Experience at the New Jersey Lottery Festival of Ballooning
I don't care if you're 1 or 91, you will still have that look of amazement when you see those balloons come out of little bags and start to inflate — all those different shapes and colors. That, to me, is the most spectacular time of the festival.

Howard Freeman
A hot-air balloon ride is a once-in-a-lifetime experience! Hot air balloon rides are incredibly peaceful for spectators and passengers alike.
Not many experiences can compare with the awe-inspiring experience of drifting through the sky while surrounded by almost 100 other vibrant balloons.
In this post, I'll tell you exactly how I managed to go from watching the balloons to riding IN one! (With a quick little story about how we narrowly escaped a hot-air balloon accident.)
How to Get Tickets to Fly in a Hot Air Balloon Ride
On a whim, while attending the festival, my friend and I had the crazy idea of trying to get last-minute tickets to RIDE on a hot air balloon!
It was my friend's birthday and what better way to celebrate with her than by floating over Central Jersey in a hot air ballon!
We set up lawn chairs in the line and sat in the sweltering heat waiting for the CHANCE to get a seat on one of the hot air balloons. (They usually book these rides in advance.)
The odds were stacked against us because people pay to reserve seats online for hot air balloons long in advance. They do, however, have occasional openings when somebody no-shows or cancels.
When we reached the tent, they said they had two last-minute spots left and if we wanted, we could purchase them.
You had to see the look on our faces when we found out we got the LAST 2 AVAILABLE SEATS on a hot air balloon for that day's ascensions.
We paid the standard fee of $295.00 per person. It was super impulsive, a tad bit pricey, but TOTALLY WORTH IT and SO MUCH FUN.
(Note: Prices have increased in the years since then and may continue to change. In 2023, the cost for the Saturday Night slot was $350.)
Not only did our ticket purchase lead to the end of ticket sales that Saturday evening, we later found out we had the last ride of the entire festival that year because stormy weather the following day led to the festival cancelling all ascensions for safety reasons.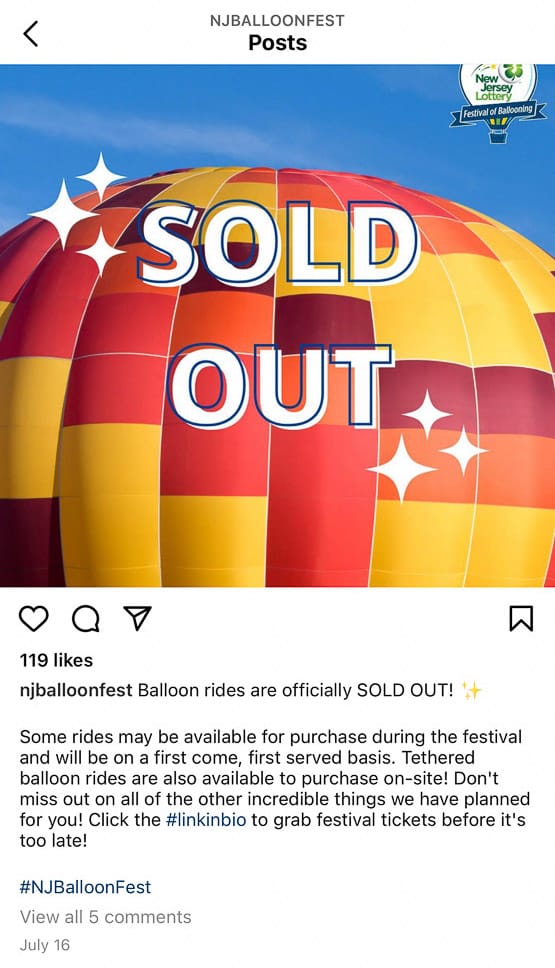 I'm glad we didn't wait because we would have missed the opportunity to try again the following day.
Before riding on a hot-air balloon, the festival required us to sign a liability waiver acknowledging that we understood hot-air balloon rides are dangerous.
That made me a little tense, but what's life without a little danger? I thought: it's just a hot air-balloon ride, right? (More on that later.)
We proceeded to a wall of photos of hot-air balloons where the pilot number we were given showed us the design of our balloon, the balloon's name, and the pilot's name.
We had Ballon #25 and I just want to say, David was incredible.
If I ever return to the festival, I will make a special request to fly with David again because he was so skilled, knowledgable, and friendly to fly with. I'd definitely recommend him!
(He also helped us survive a terrifying near-collision with another hot air balloon…)
Until your hot-air balloon pilot is ready, you sit in a holding area. At this point, I started to get a little nervous wondering what we had gotten ourselves into!
I was sending out messages to my family and friends to let them know I'd be taking my first-ever hot-air ballon ride!
How to Prepare the Hot Air Balloon for Flight
We were walked to our hot-air balloon where we met the whole crew (including David, our hot-air balloon pilot!)
It was at this point that I was informed about how hot-air balloons work. While floating over the city, David's crew would be tracking us and driving with their truck to meet us at whichever place we happened to land. (A random location that's chosen DURING the flight based upon where the wind carries us.)
We began taking steps to inflate our hot-air balloon. I had no idea the experience was going to be interactive or that I'd be able to assist with the behind-the-scenes setup!
I was tasked with turning on and holding upright this SUPER powerful fan that was blowing hot air into the balloon.
It was very loud and very powerful so the balloon filled up a lot faster than you might imagine.
It was so surreal to see this huge balloon inflating in front of us and to think in 30-minutes or so, we'd be floating with it across the sky!
Other balloons were inflating all around us as other passengers assisted with their own colorful aircrafts.
What Is It Like Going On a Hot-Air Balloon Ride?
Our pilot began to fuel the fire heating up the air within the balloon.
We promptly climbed into the basket. As the flamethrower continued to heat the air inside the balloon, like magic, we lifted off the ground and began to float upward.
I will not lie, I was a little terrified at first. I don't consider myself to have a fear of heights but there's something really scary about being that high up while standing in a basket that's just floating with no real sense of control.
I tried to take deep breaths and hold onto the foam railing whenever I got nervous. You're not seated or strapped into anything. You're essentially standing in the sky.
I told myself to focus on the balloons all around me and to try not to worry. After all, WE WERE RIDING ON A HOT AIR BALLOON!
Talk about crossing something off the bucket list! Balloon rides were something so foreign to me, I never even dreamed I'd get to try one in my lifetime.
The memories from this festival are ones I think back to often.
David was a great pilot and he made me feel a lot more comfortable by putting my mind at ease.
The views were out of this world.
As we gained altitude, the festival attendees began to look so tiny, like toys.
Amazing balloons of all shapes and sizes drifted through the wind with us.
Seeing the town from this view was a perspective I never dreamed I'd get to see in my life.
Our Terrifying Near-Miss Hot-Air Balloon Accident
Not-So-Fun Fact: Hot-air balloons are dangerous.
That's why you must sign a liability waiver before riding in one.
We were told it was our duty to tell our pilot if at any point we saw: livestock (I cannot recall the reason there), power lines, or another hot air balloon getting too close to our own.
Part of what makes hot air balloons so scary is that you can essentially only control one thing: how high or low you are. You operate, more or less, on one axis.
The direction you move in is otherwise determined by the wind.
Well, at one point, I looked down and saw another hot air balloon was quickly rising up from beneath us. Due to the nature of the design, whatever is directly above your hot air balloon is a blind spot! I immediately warned our pilot and when he saw, he made the flame ignite at its maximum setting and we lifted as fast as possible to avoid a hot-air balloon collision.
The thought of being tipped out of the basket was a terrifying vision.
He said it was a close call and thanked me for pointing it out when I had.
It was a scary incident and it made me even more grateful when we safely landed in the open space of some industrial building's parking lot.
From there, we helped force all of the air out of the balloon, load it back onto the pilot's truck that met us at our landing spot, and we were driven back to the festival grounds.
NJ Lottery Festival of Ballooning: FAQ
Where is the NJ Lottery Festival of Ballooning Located?
The annual balloon festival is located at Solberg Airport in Readington, NJ.
Are There Parking Options Available?
With 80+ acres of on-site parking available, you should have no issues driving in like we did.
They charge $10 per vehicle and accept both cash and credit.
Are There Hotels In the Area?
The festival's Preferred Hotel Partner is the DoubleTree by Hilton.
If you prefer to weigh your options, you can search for other nearby hotels here.
Are There Tethered Balloon Rides?
If you feel uneasy about taking a real hot-air balloon ride, there are tethered balloon rides available too. They only go up about 75-100 feet in the air and float for about 5 minutes. The cost has historically been $25 per person but is subject to change.
Where Can I Learn About the History of the Hot Air Balloon?
Ballooning has a fascinating history! Here's a website where you can explore a timeline of how ballooning has evolved over the years.
Where Can I See More Photos of the NJ Festival of Ballooning?
There are a lot of images of the festival available on the official event's Instagram account.
Are There Other Hot Air Balloon Festivals?
There are many hot-air ballon festivals in New Jersey, the United States, and around the world!
Another popular balloon festival in New Jersey is the Warren County Flying Festival.
To see a full list of options for hot air balloon flights, click here to see which ones are near you!
Does the New Jersey Festival of Ballooning Introduce New Balloons Each Year?
Each year, new hot air balloons are introduced into the mix.
In 2023, there were 10 new special shaped hot-air balloons including a lucky pig, old fashioned alarm clock, Darth Vader, a pair of bumblebees, a 100-foot tall Snowbird Penguin, and a 62-foot tall Yoda.
The updated list of new balloons is available on the official website: Balloonfestival.org.
How Many Vendors Are On-Site at the Festival?
Historically, there have been 200+ vendors in attendance at the Festival of Ballooning.
Some notable brands that has been in attendance include: Hasbro Beyblade, Ghirardelli, I LOVE NY, and Jarritos Sodas.
Are There Fireworks At the NJ Hot-Air Balloon Festival?
In 2023, a new element to the festival was The Dazzling Drone Light Show that replaced the usual firework display.
Presented by Progressive, 300 drones take flight in unison to create a visual spectacle reminiscent of fireworks, only more complex and orchestrated! At one point in 2023's show, the drones formed a floating QR code that spectators could scan for a chance to win a free trip to Antigua and Barbuda.
Does the Festival Take Place Rain or Shine?
For the latest weather information, visit the festival's official website or official social media accounts.
Why Do the Mass Balloon Ascensions Occur at Two Specific Times Each Day?
It is safest to launch hot air balloons when the surface winds are less than 6-8 mph. Therefore, to avoid excess winds caused by the sun heating the atmosphere, balloons ascend while the air is still cool (just after sunrise and just before sunset.)
How Is the Food at the Festival?
The Festival has a partnership with Dellano's Food Service, a NJ-based concessionaire. Offerings include hot dogs, pizza, cheese steaks, sandwiches, hamburgers, fresh salads, fresh fruit, smoothies, and more!
There is also authentic Greek cuisine, Asian cuisine, and other international delights.
I was basic and got pepperoni pizza. 😉
What Other Information Do I Need to Know Before I Go?
Tents are not allowed
Umbrellas are allowed but you must not block the view with them
You may not camp on festival grounds
Pets are not allowed
Coolers are not allowed
Outside food and beverage are not allowed
Backpacks, sunscreen, lawn chairs, and blankets are allowed and I'd HIGHLY recommend you bring all of these!
Questions About Riding in a Hot Air Balloon?
You can ask down below in the comments or reference the festival's official balloon ride FAQ!
I'm happy to share more about the experience if you have any other questions. 😊