If you have been looking for fun and adventurous things to do in New Jersey this autumn, look no further than FLG X New Jersey: the largest adventure and zip line course in the entire United States.
What Is FLG X New Jersey?
FLG X New Jersey has tree top adventure courses including ropes, zip lines, and other surprises. Their obstacle courses are elevated 15 to 50 feet off the ground, up in the beautiful trees of Northern New Jersey!
My first time visiting New Jersey's Top Adventure & Zip Line Course was in November of 2020 when I tackled the outdoor challenge with one of my best friends.
Why We Chose FLG X New Jersey
With more than 30 exhilarating zip lines, FLG X New Jersey holds the title of the largest zip line course in the United States. It is the perfect expedition for anyone seeking an adrenaline rush from navigating through physically challenging obstacles.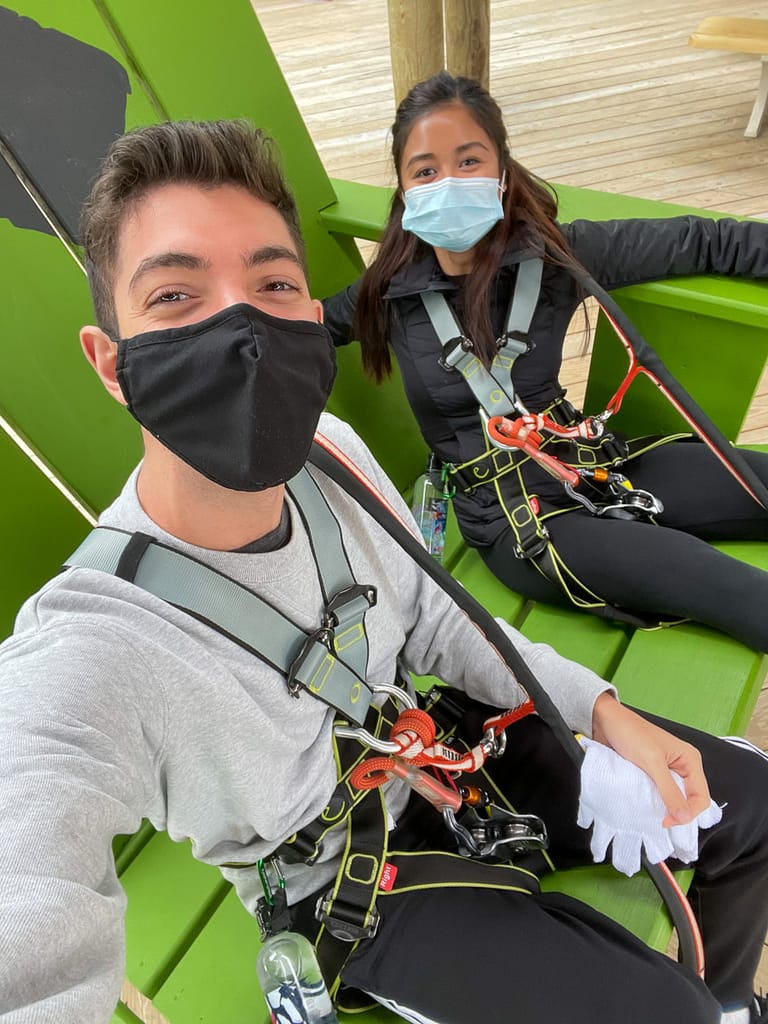 You will notice in the many of the photos here that we were all masked up.
When we visited in 2020, America (and most of the world, for that matter) was still deeply struggling with getting the coronavirus pandemic under control. This location was brand new and had just opened.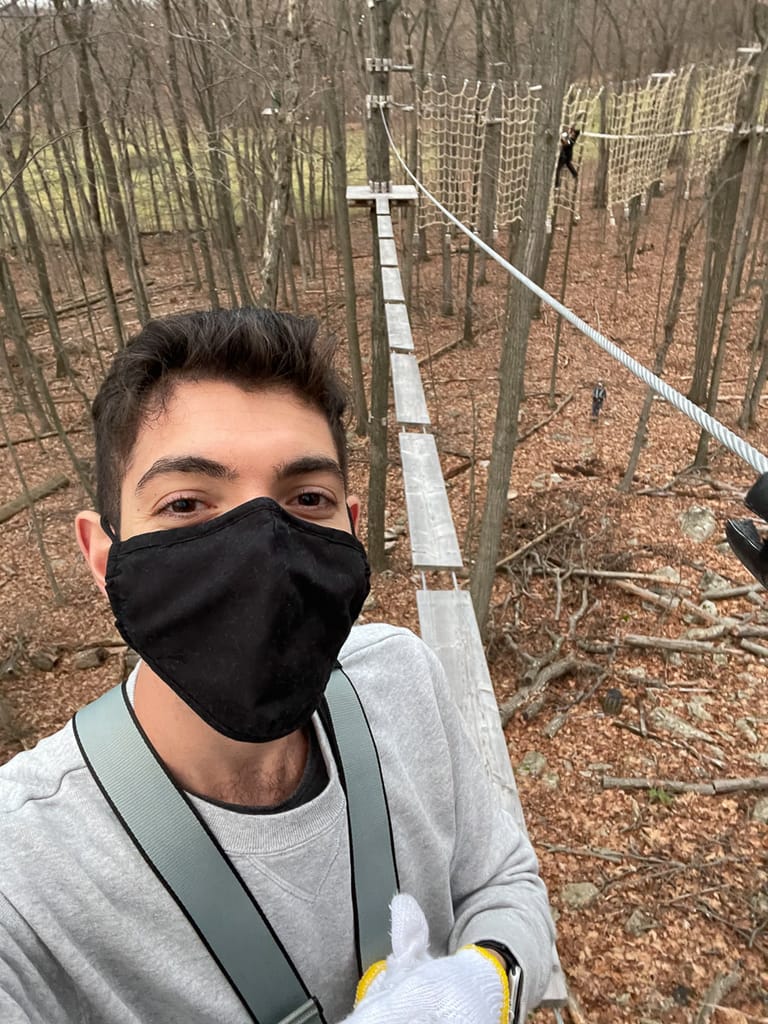 Per their COVID-related policies, FLG X New Jersey required visitors to social distance and wear masks outside. Looking back on these photos, I am reminded of how far we've come!
Options for activities were so limited during the pandemic that we really struggled to find other fun things to do that were safe and still operating. We were grateful for this option.
An adventure ropes and zip line course sounded like a terrific way to hang out together in the great outdoors. (Oh, and spoiler alert: it totally was!)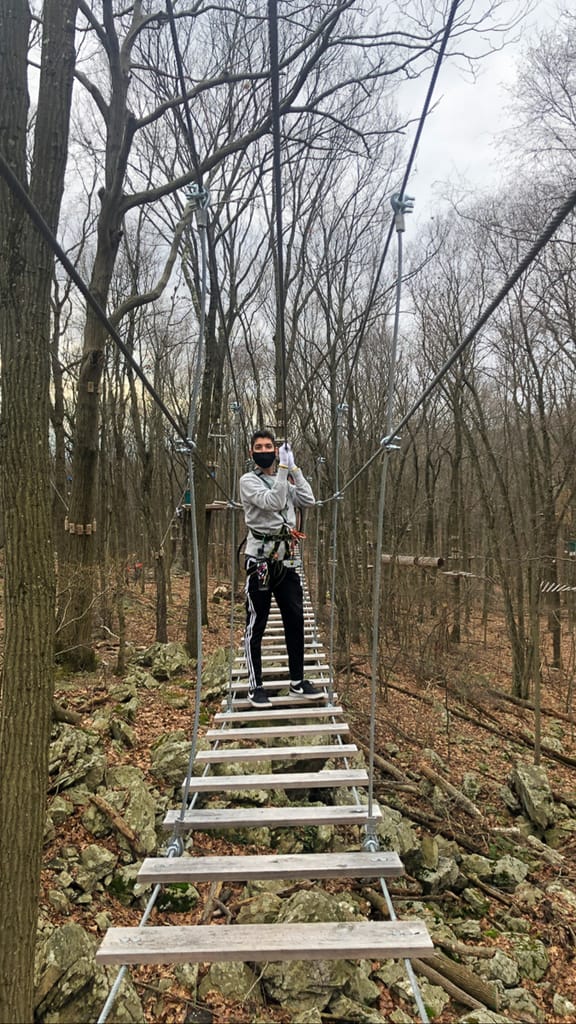 If you enjoy being physically active and crave a tough challenge, this course will definitely put your skills to the ULTIMATE test.
Who Is FLG X New Jersey For?
You may be wondering how difficult the adventure courses are.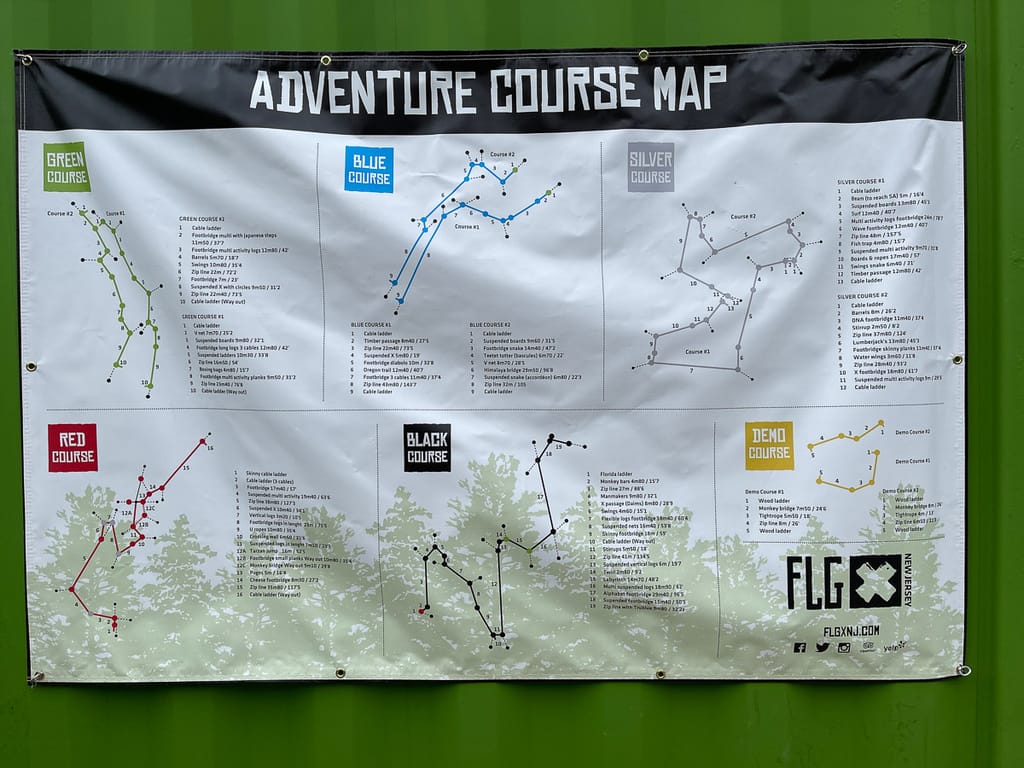 There are 5 levels of difficulty for these courses, 6 if you count the demo course that all participants attend as a prerequisite before starting on the Green Course.
In the initial stages (Green, Blue, and Silver) there are two routes you can take. From personal experience, it seemed like members from our group were randomly assigned to Course #1 and #2. Since everyone starts more or less all around the same time, I believe this is done to reduce bottlenecks by spacing everyone out in the earlier stages.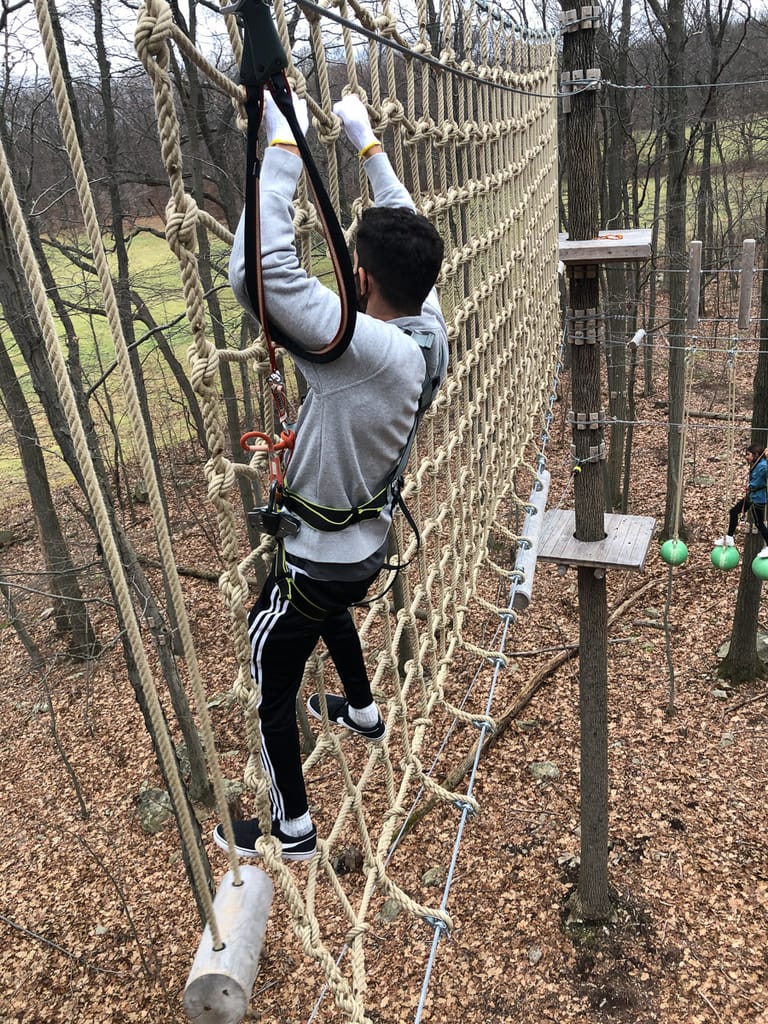 You'll notice there is only one route for each of the more difficult levels (Red and Black). That's because most people don't even make it that far.
Many of the younger kids drop out by the end of the Blue course contributing to the thinning of the herd that you will witness the deeper into the course you go.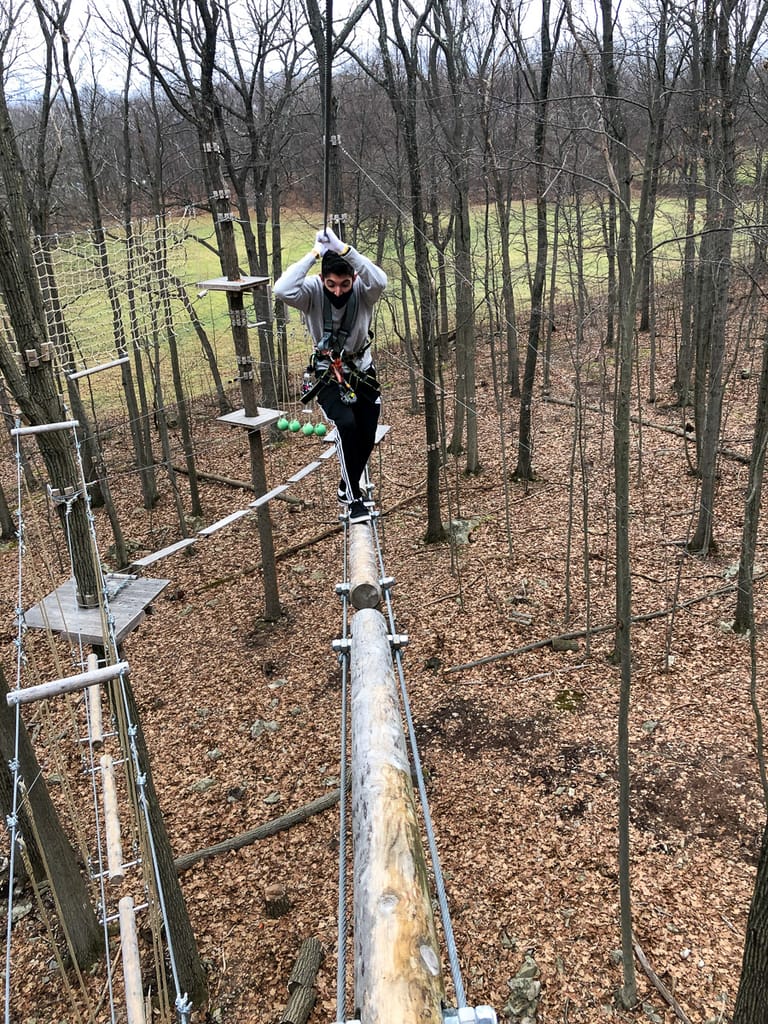 Everyone starts from the beginning and the only way to advance to the more difficult levels that are located higher up in the trees is to go step-by-step as you progress from the beginning ones. You have to prove yourself!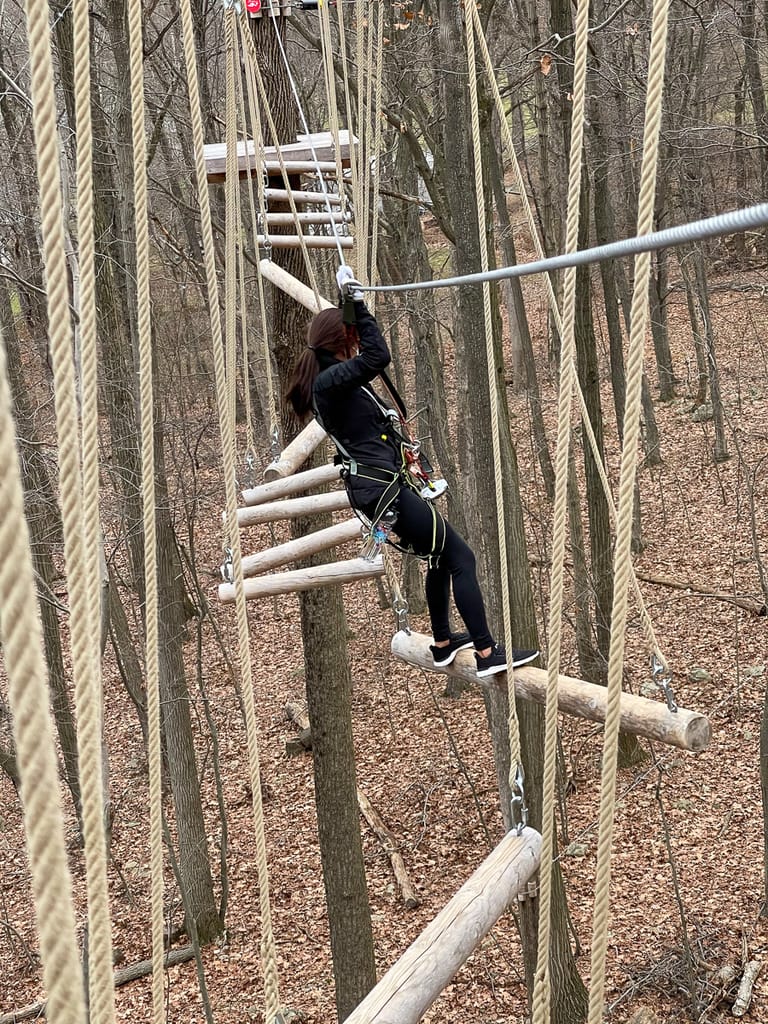 The more advanced the course is, the higher up in the trees you'll be!
Due to the format of the course being both beginner-friendly and challenging for those who can endure it, I think FLG X New Jersey is perfect for people 9 years of age and older.
How Safe Is Zip Lining at FLG X New Jersey?
For your safety, comfort, and convenience, there are numerous exit points to descend from during the course, all assessable in between obstacles.
Admittedly, there were times in the course where we did things that looked pretty intimidating. If you have a fear of heights, you might want to sit this one out.
Above and below are two videos of us making the leap! Despite being harnessed, it was both terrifying and exhilarating all at the same time.
Immediate doubts about how high up in the air I was and my upper body strength flooded my mind as I prepared to swing. It took so much courage to jump off the ledge and onto the Tarzan rope swing.
The good news is that the fear was all in my head. In reality, we were perfectly safe the entire time.
From the start, we were fitted with harnesses and required to watch a safety video. They use a two-clip mechanism (the Clic-IT carabiners) to make sure that you're safely attached to the course's cables 100% of the time. This ensures even if you slip or let go at any point, you cannot fall.
You also need to wear gloves and I'd recommend bringing a water bottle that can be clipped on the harness. You don't want to find yourself getting dehydrated up there!
FLG X New Jersey sells this type of gear for a small fee.
FLG X New Jersey has guides positioned along the way to help anyone who is having difficulty. We didn't require their assistance until we really began to struggle with some of the obstacles on the Red course.
We didn't make it to the Black course. 😢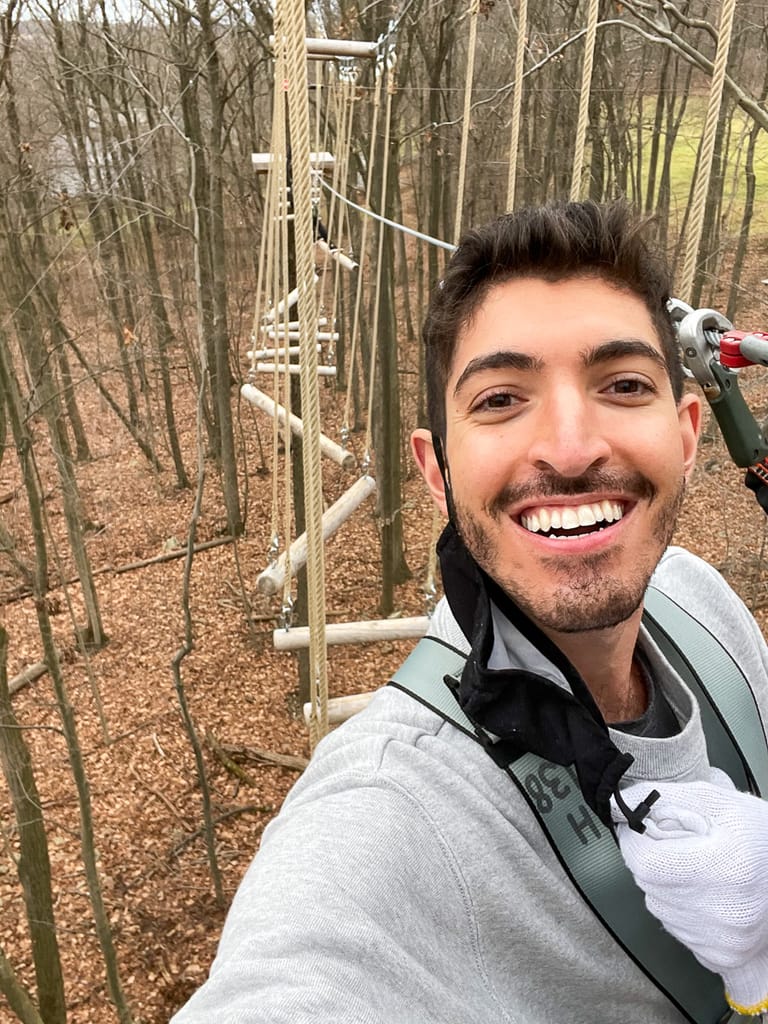 Once you leave any part of the course, you cannot go back up so make sure you are at your limit before deciding to jump ship.
How Much Time Does It Take to Complete?
Since the course is self-paced, it's difficult to say exactly how long it will take.
I would suggest that you should plan to be there for a few hours.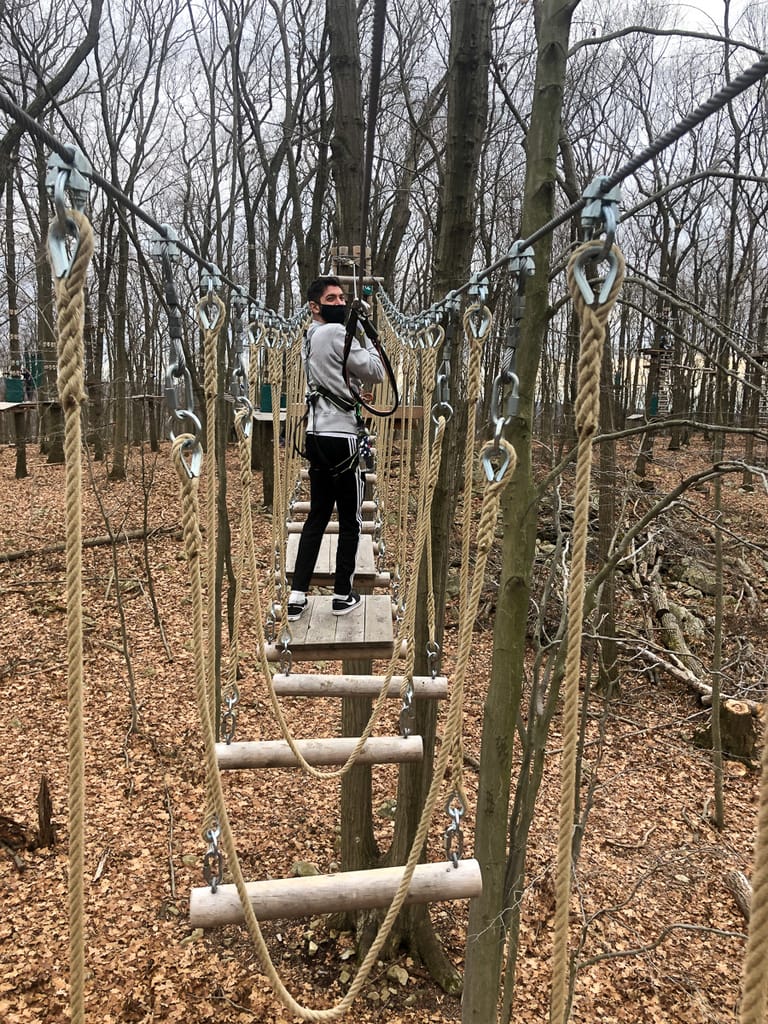 You'll be busy climbing ropes, zipping from tree to tree, balancing across beams, and hanging from monkey bars. If you're with younger children, you might find yourself finishing after just 1-2 hours. If you find yourself approaching the Red and Black, it'll take longer.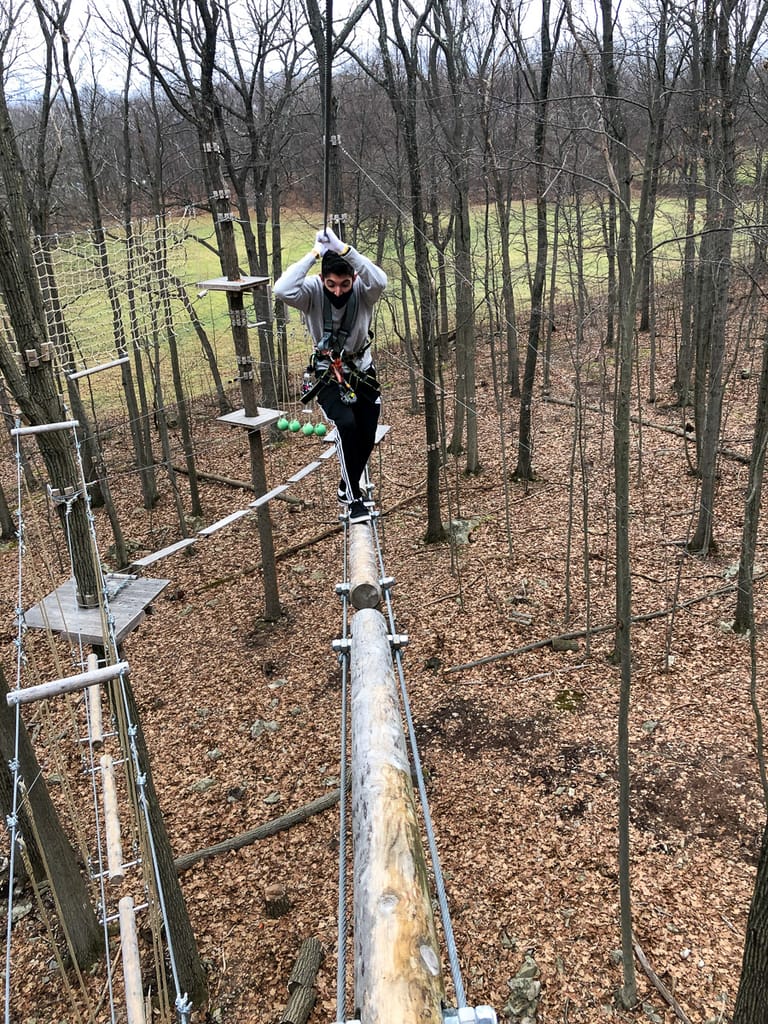 We spent 4 hours scaling the course and didn't even reach the Black level.
FLG X New Jersey: FAQ
How Would You Rate This Ropes Course?
I hope this FLG X New Jersey ropes course review has been helpful in determining whether or not it is worth paying them a visit.
On a 5 point scale, I would rate it 5/5.
As someone who has done a handful of adventure courses in a variety of places, this is by far the best one I have ever done.
What Does FLG X New Jersey Mean?
FLG X New Jersey stands for Flagstaff Extreme New Jersey.
Flagstaff, Arizona is where the self-guided experience originated.
Where is FLG X New Jersey Located?
FLG X New Jersey is located at:
59 Mt. Arlington Road
Ledgewood, NJ 07852
When Did FLG X New Jersey First Open?
The New Jersey location was founded in 2020!
This was the same year I visited.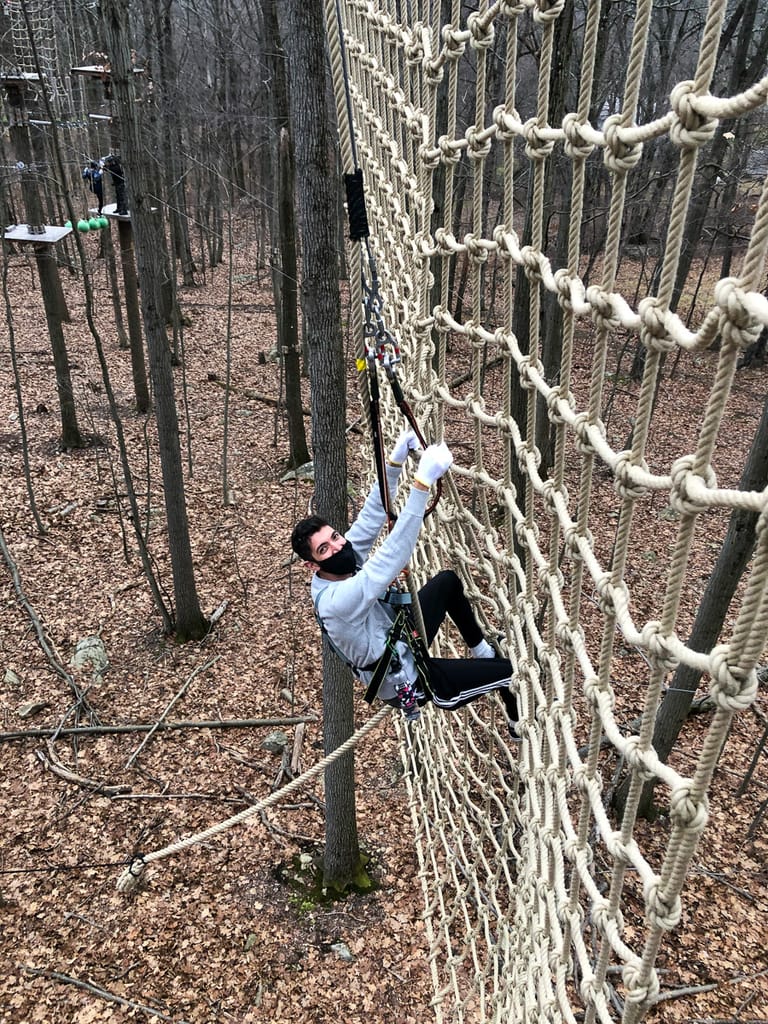 You can see in the time since they've opened, they've steadily gotten raving reviews on trusted websites like TripAdvisor too.
How Difficult Is Each Color Course?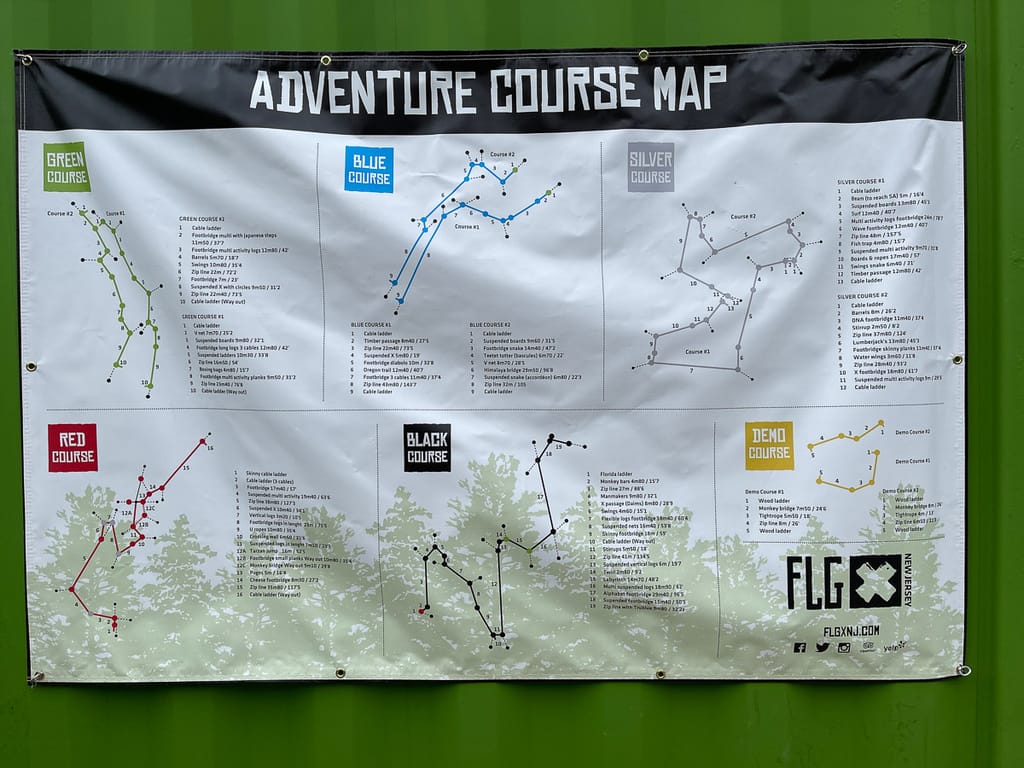 Green: Minimum Elevation/Minimum Skill
Blue: Medium Elevation/Medium Skill
Silver: Medium Elevation/Medium-Advanced Skill
Red: Advanced Elevation/Advanced Skill
Black: Advanced Elevation/Advanced Skill
How Much Does It Cost?
The cost may vary so always check the official website for the most current information. As of the time of writing, the standard price for either the Adventure course of the Zip Line course is $57 plus taxes and fees.
Discounts exist for younger children, large groups, and annual pass holders.
You may even be able to find a better price on Groupon!
Is It Worth Visiting?
If you asked me, I'd say it's a resounding yes!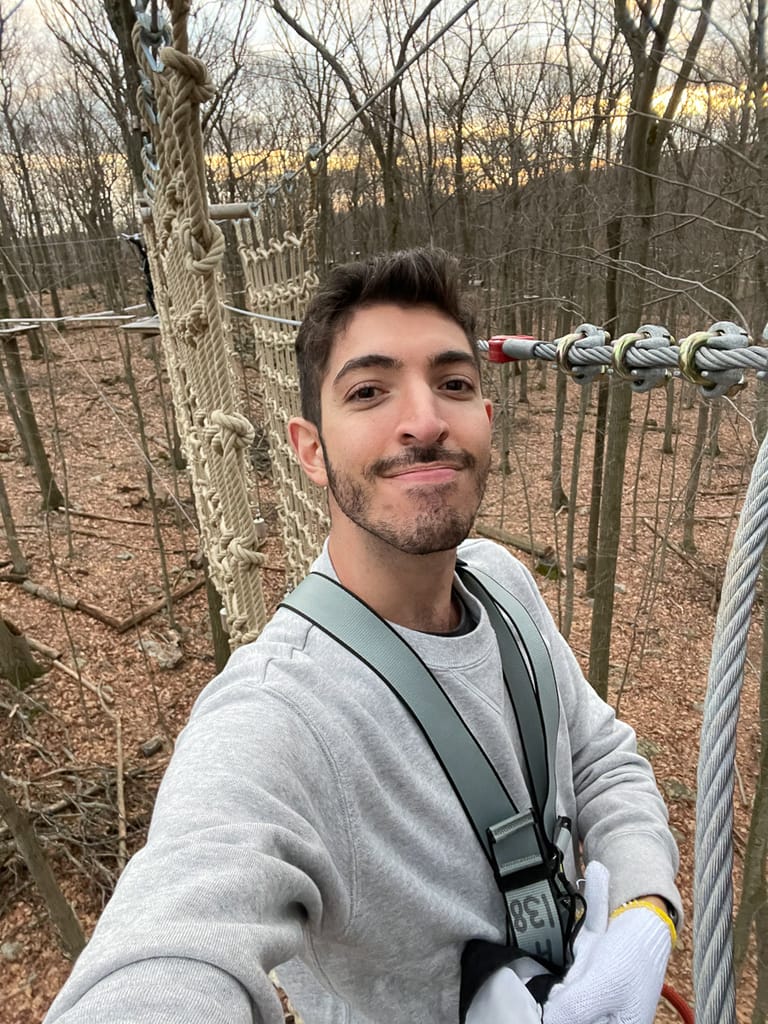 I had the best time and can't wait to return again some day. I'm hoping now that I've been working out consistently with a fitness coach this year, I might even make it up to the Black course on my next attempt!
Through this shared experience, FLG X creates the opportunity to strengthen relationships and to leave feeling a greater sense of accomplishment.
If you have been to this ropes and zip line adventure course, I'd love to know what you thought of it too!