I hope your new year has been off to a great start! 😀 The last three weeks have been action-packed, but I wanted to take a moment to revisit this past holiday season to highlight one of my most favorite recent memories.
As I walked along the streets of Times Square on a Wednesday night wearing blinking Christmas lights, a bright red blazer, and a fluffy Santa hat, strangers passing by jokingly exclaimed, "LOOK, it's Santa!!!!!"
With flickering Christmas lights draped around my neck and the frigid winter air flowing through my Santa button-down dress shirt and red velvet blazer, together my friend and I marched together through Times Square in search of a pop-up Christmas bar known as none other than the famous Frosty's Christmas Pop Up Bar.
The idea of going into the city on a Wednesday night was a last-minute, somewhat impulsive decision. We considered it the night before but we did not fully commit to it until that very same day.
Was it worth it? ABSOLUTELY.
The night in the city turned out to be my favorite memory from this past December.
Frosty's Christmas Pop-Up Bar is a limited-time bar you can find in the heart of New York City's Times Square during the peak Christmas season. In 2022, the dates it opened from were November 30th until January 10th.
During those weeks, the bar was open 7 days a week, closing around 2:30 AM most nights.
Frosty's Bar is an amazingly over-the-top, 21-year-old and up Christmas experience in New York City, just steps from Times Square, at 220 W 44th St, New York, NY 10036.
In 2022, they took over Bacall's & Blue Midtown to deck the halls across 4 bars to create 3 levels of infinite possibilities and Christmas fun.
Offering sensational seasonal cocktails, wonderfully interactive holiday photo experiences, incredible lights, and music, with a party that continues late into the night, this is a bar that will knock your Christmas stockings off.
This over-the-top 3-floor Christmas Bar was more lively inside than I ever imagined. Prior to leaving, my friend and I looked at the Google reviews that were posted online about the location. They were full of negative 1-star reviews.
Complaints spanned from, "I waited in line for hours with a ticket reservation purchased online and the place closed before I ever got in… what was the point of buying in advance!?" to "I wasn't sure if my signature cocktail even had any alcohol in it, stick to bottles or cans if you want to drink."
I sent some of these terrible reviews to my friend as a warning and jokingly we agreed to still go but with very low expectations so that whatever this place turned out to be like, we wouldn't be too let down. We even chose not to buy tickets online in advance in case the wait was as long as past visitors had warned.
Once we arrived at Frosty's Christmas Bar, the night was still young (never mind it being a Wednesday night…), so the two of us took to the Hard Rock Cafe right around the corner to grab a bite to eat before kicking off our holiday party!
The Hard Rock really got us into the holiday spirit when our $83 meal was fully comped by the manager on her own accord in an effort to apologize for the slow service. (It took a total of 1 hour and 30 minutes from the time we sat down to eat to when we got the check. Neither one of us were in any particular rush to leave so we never complained about the service, but I guess by New York City standards, 1.5 hours was unacceptable.) Still, a free meal? Score!
At the Hard Rock, we enjoyed two festive cocktails. I ordered the "Santa Sangria" which featured a jolly blend of red wine, Sipsmith gin, Monin Blood Orange Syrup, and Fever-Tree elderflower tonic infused with fresh mint, strawberries, and orange.
My friend ordered the "Very Merry Cocktail" which had Hanson Mandarin vodka, Cointreau, lemon, honey, mint, and edible glitter all served in a keepsake ornament.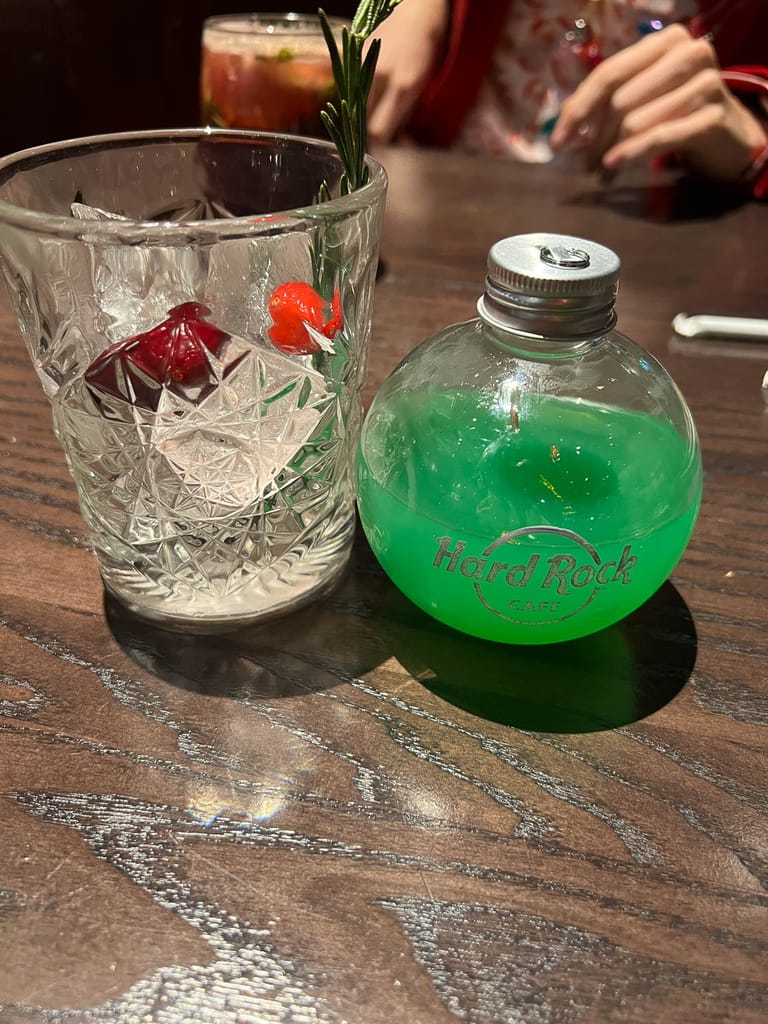 From there, we circled back to Frosty's where some semblance of a line had begun to form, but it wasn't anything too crazy. We waited somewhere between 15 to 30 minutes before we were granted entry.
It turned out we were incredibly happy we had not purchased tickets online because, on their website, the tickets were $50 (plus a credit card processing fee) for General Admission but at the door, they only charged us $30 for entry.
Their website states that prices vary by the date, time, and package you select. I recommend buying your ticket at the door if you are going mid-week. On top of the reduced fee, we didn't have the stress about entering within the 30-minute grace period following our chosen time slot.
After getting a very… thorough… pat down… we were able to enter the Christmas bar.
The inside was absolutely gorgeous!
They really outdid themselves with the decor and the aesthetic.
Cocktails were on the expensive side, priced at around $18 per drink.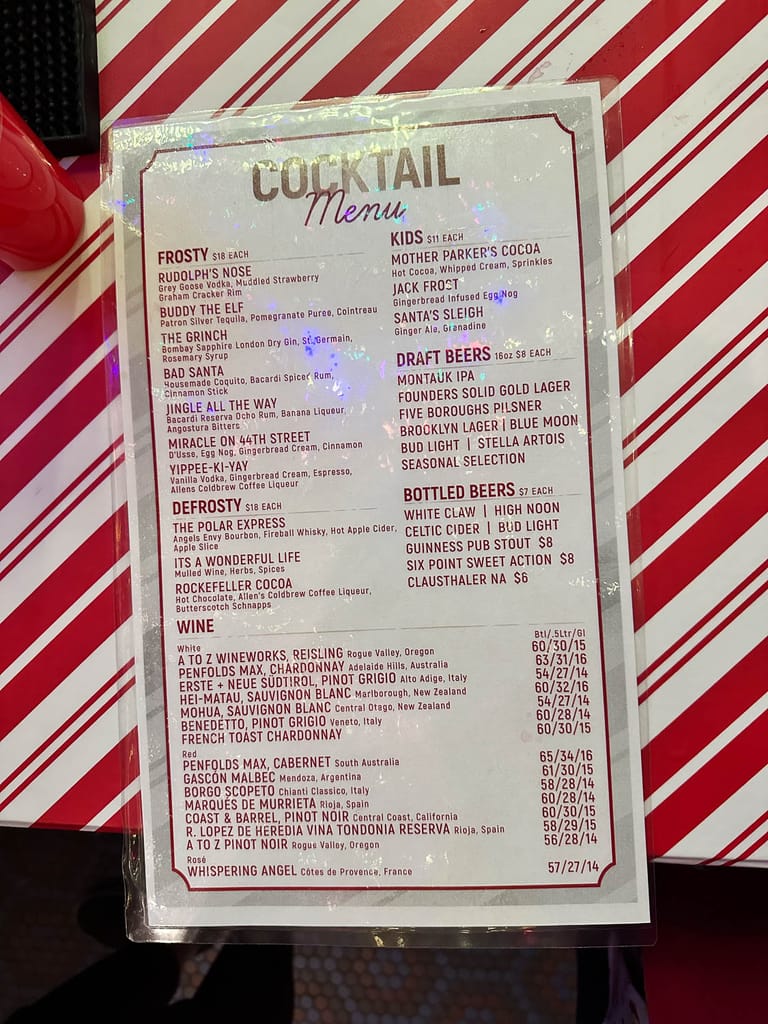 On the ground level, there is a bar positioned right across from where everyone enters from. Since this is the first spot everyone sees, it was very busy there and we had to wait a bit before someone served us. Once it was our turn, we ordered two Buddy The Elves.
Contrary to the negative reviews on Google saying that all of the drinks there taste like simple syrup, our drinks tasted like they were straight Patron tequila.
Upstairs, there was a beautifully decorated dining area with a huge sleigh and a giant oversized armchair surrounded by beautifully wrapped Christmas presents and snow-covered evergreens.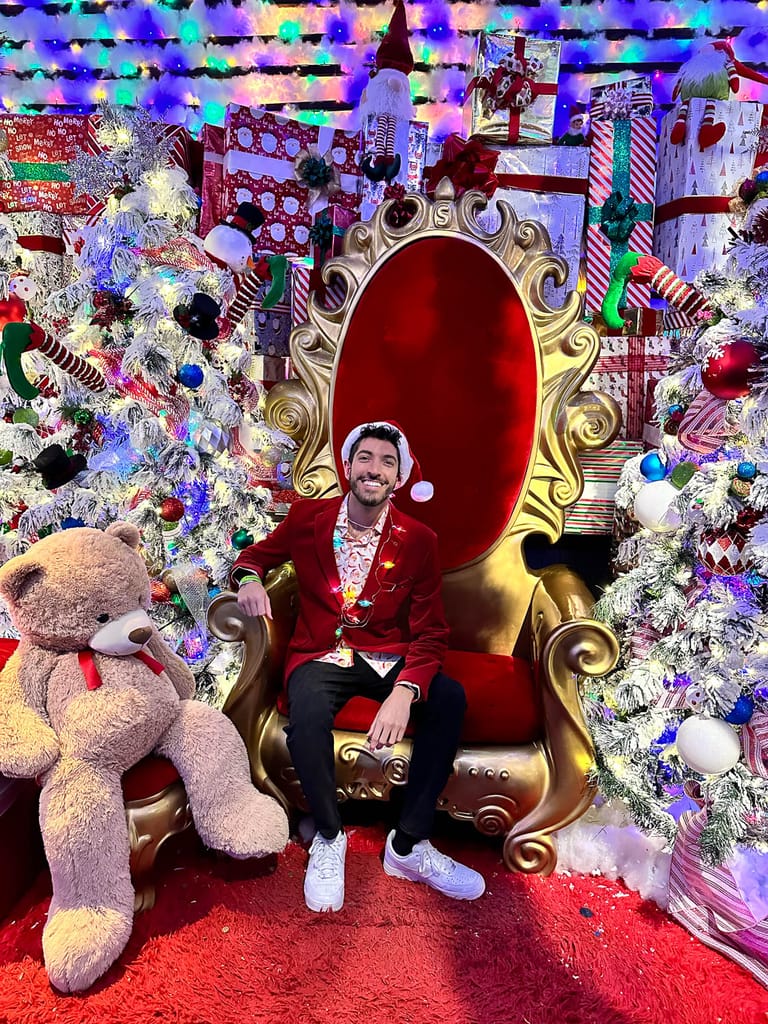 Downstairs, the party was in FULL SWING. Tons of people were jamming to the DJ's music with their Santa hats and blinking necklaces. It was simultaneously the most festive thing and the most hilarious thing. The music was incredibly good too.
Each level of Frosty's has its own bar. On the lower level, we ordered Rudolph's Nose: a cocktail with Grey Goose vodka, muddled strawberry, and a graham cracker rim. That was another strong one.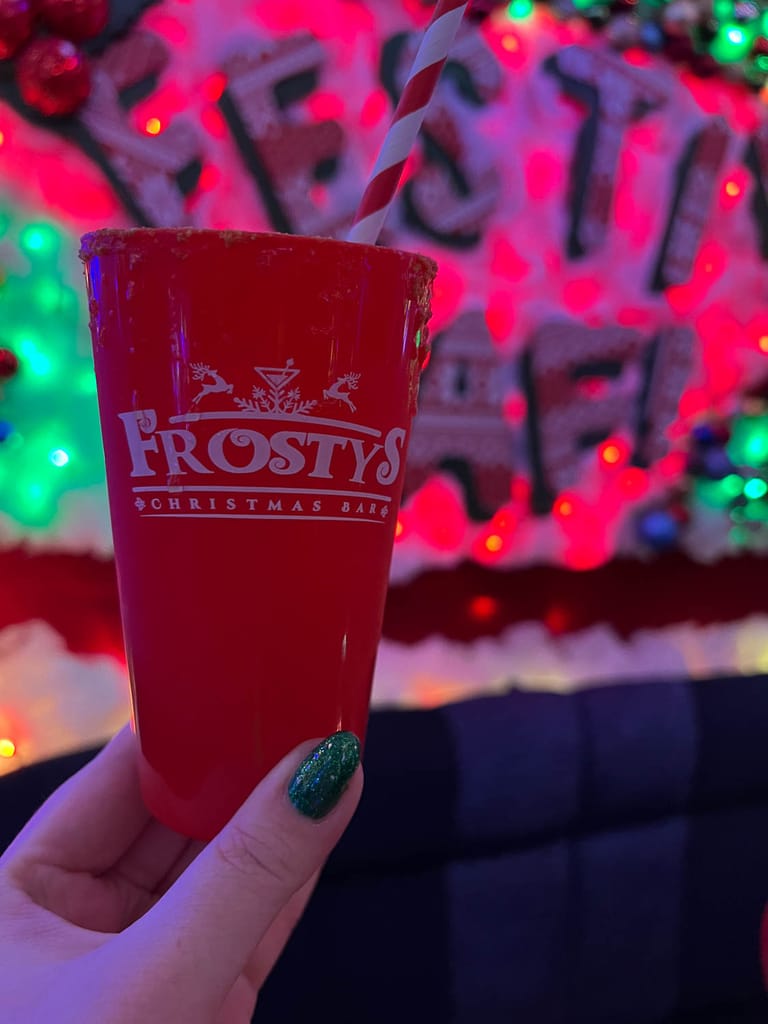 The underground nightclub was my favorite section of the bar. It was 10x more fun than I ever imagined. The DJ played a lot of Christmas remixes which made the night really fun in the spirit of the holiday.
Seeing everyone dressed as Santa while partying was a sight I don't think I'll ever forget.
I've been to other Christmas bars in the past, but this one really took Christmas to another level. I can't recommend it enough. I hope it will return to New York City next year!